In 1998, Damien Ernst graduated from the University of Liège. His did his master thesis on electricity networks, focusing on loss of synchronism phenomena that can lead to blackouts in a matter of seconds.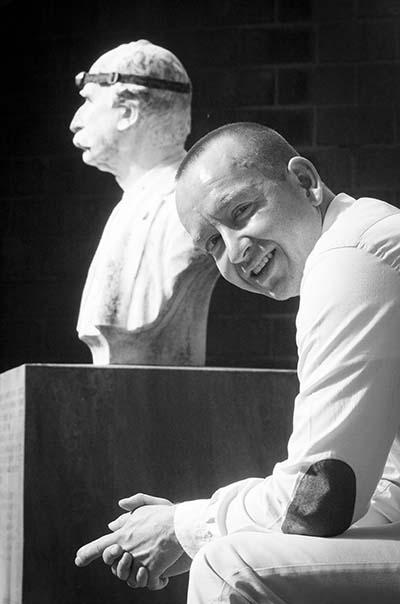 He changed direction for his doctoral thesis (which he defended in 2003), to focus on reinforcement learning. "However, I used reinforcement learning techniques to solve control and decision-making problems in electricity networks. After my thesis, I continued on that path and I have published a great deal on the subject." This was during his three-year post-doctoral research, funded by the FNRS and spent at CMU  and MIT in the USA, and at ETH in Zurich.
Damien Ernst then headed to France, where he was a professor at Supélec, an engineering school in Rennes. "2006 was a great year," he recalls, "mainly because of my contacts with the French industry."  He then returned to the FNRS (2007-2011) as a research associate, where he continued his work on reinforcement learning. During the period 2011-2016, he has held the EDF-Luminus Chair on Smart Grids at the University of Liège.
"Thanks to this chair, I've learned a great deal from working more closely with industry. It's given me a more complete, and less academic vision of energy systems. I've also been able to develop great research projects to facilitate the integration of renewable energy into electrical networks."
Damien Ernst is now working at the University of Liège, as a full professor. He is doing research in the fields of energy and Artificial Intelligence.
Detailed CV of Prof. Damien ERNST
En 1998, Damien Ernst décroche son diplôme d'ingénieur à l'Université de Liège avec un travail de fin d'études sur les réseaux électriques, et particulièrement sur le phénomène de perte de synchronisme qui peut conduire à des blackouts en quelques secondes.
Changement de direction pour sa thèse de doctorat (soutenue en 2003), consacrée à ce qu'on appelle l'apprentissage par renforcement. « Mais j'ai utilisé ces théories pour résoudre des problèmes de commande, de prise de décision dans des réseaux électriques. Après ma thèse, j'ai continué dans cette voie et j'ai beaucoup publié sur le sujet ». C'est l'époque du post-doc, trois années financées par le FNRS et passées notamment à CMU et au MIT aux USA, et à l'ETH à Zurich.
Damien Ernst prend alors la direction de la France où il est nommé professeur dans une école d'ingénieurs, SUPELEC  (Campus de Rennes).  Retour au FNRS (2007-2011) en tant que chercheur qualifié cette fois, période pendant laquelle il reprend ses travaux sur l'apprentissage par renforcement tout en gardant une activité de recherche dans le domaine des réseaux électriques.  Pendant les période 2011-2016, il à  occupe la chaire EDF-Luminus sur les Smart Grids à l'Université de Liège, chaire financée pendant 5 ans pour réaliser des recherches sur les smart grids, les réseaux intelligents.
« J'ai beaucoup appris en travaillant plus étroitement avec l'industrie dans le cadre  de  cette chaire. Cela m'a permis d'avoir une vision plus complète, moins académique aussi, des systèmes énergétiques. J'ai pu également monter de chouettes projets de recherche dont l'objectif est de faciliter l'intégration des énergies renouvelables au sein des réseaux électriques. »
Damien Ernst travaille pour l'instant comme Professeur à l'Université de Liège où il fait de la recherche dans le domaine de l'énergie et de l'intelligence artificielle.